Horse Riding Holidays, Azores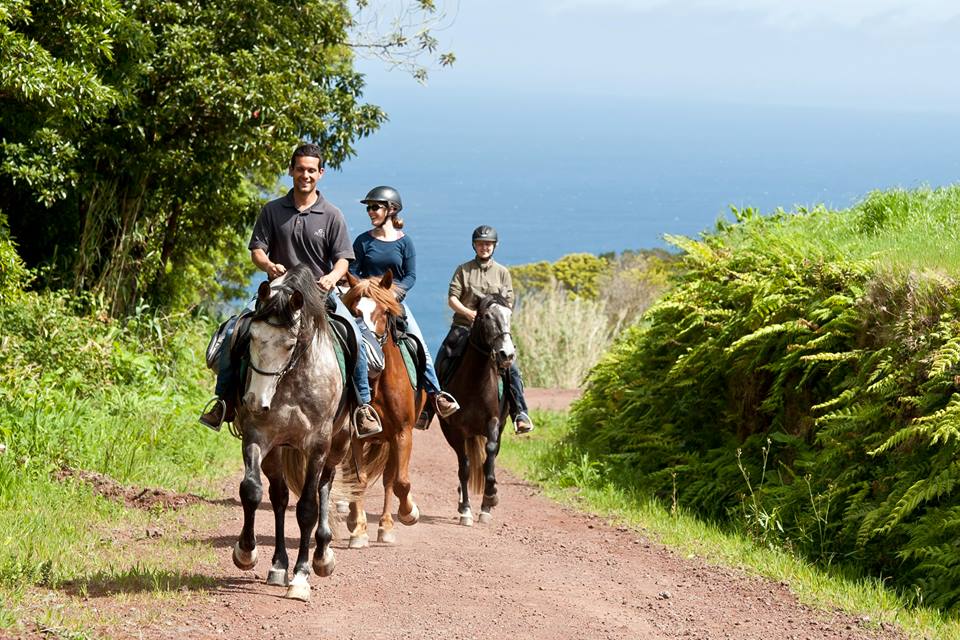 The Archipelago of the Azores consists of nine volcanic islands which lie in the North Atlantic Ocean, west of Portugal. With a warm, mild climate, magnificent black beaches and bright green countryside they make wonderful horseback riding destinations. Although the Azorean culture has clearly been influenced by the Portuguese there is a distinct cultural identity and way of life just waiting to be explored, as well as the local cuisine of course! You can ride typical Portuguese bred horses such as the magnificent Lusitano whose sturdy build and wonderful temperament make them a great breed for trail riding.
The Azores were first populated in 1439 when colonists arrived on sailing ships from the south of Portugal, with later settlers coming from France too. As well as farmers the islands became popular with sailors, whalers and wine makers, all of whom have left their impact on the agricultural heritage of the lands. The culture is often considered quite unique which can be attributed to the Azores' isolation and the disruption caused to them over the years through volcanic eruptions and even pirate invasions!
Nowadays the islands make for a fascinating riding holiday destination. Not only do they offer spectacular scenery and riding terrain but their interesting, unique culture and history, alongside the typical Azorean cuisine (notably the delicious cheeses, wonderful seafood and intense pineapples), make them treasures not to be forgotten. Whale watching from in the saddle, cantering over the black basalt coastline or exploring the green meadows and wild flowers are all a real possibility in this beautiful part of the world.
See our horse riding holidays in Azores below.
Azores - Faial Island Trails, Azores
This welcoming quinta is based on the island of Faial in the Azores and offers a choice of horseback trails as well as a programme for beginners. Guests are accommodated in comfortable guesthouses each night, sampling local Azorean cuisine and riding a beautiful Lusitano or crossbreed around the island.