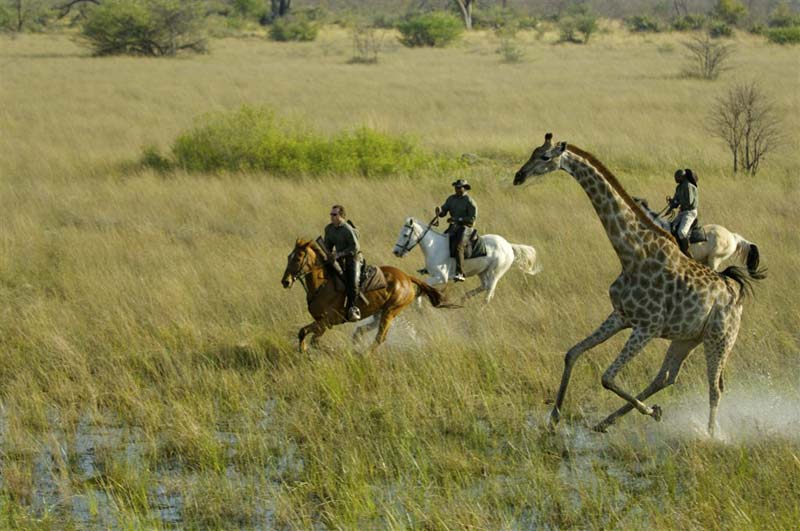 Acknowledged as the most successful, stable and peaceful African country, Botswana is an unspoilt land of timeless beauty which is teeming with game and bird life. It is one of the finest tourist destinations on the African continent and exploring it on horseback is most definitely an enjoyable and thrilling adventure.
The Okavango, which originates in the uplands of Angola to the north-west, flows into and then spreads over the sandy spaces of the Kalahari to form an immense and wondrous inland delta of lagoons and labyrinthine channels, palm-fringed islands and fertile floodplains, perfect for an exhilarating gallop alongside the wildlife. Described as 'the river which never finds the sea', the Okavango disappears into a 15,000 sq km maze of lagoons, channels and islands in north-western Botswana. It's the largest inland delta in the world and is a watery wilderness with its seasonal floodplains and offers a safe haven for wildlife.
This rich and diverse habitat can be explored from the back of a horse and a safari here enables you to ride close to the huge variety of game that live here. Most obvious are the birds - thousands upon thousands of them - but there are also elephant, zebra, buffalo, wildebeest, giraffe, hippo and kudu. In fact, Botswana has the largest population of elephants in the world and is home to a migrant population of over 120,000 of these massive creatures. You can have a once in a lifetime chance to ride past these gentle creatures in their natural habitat.
The Makgadikgadi salt pans are one of the largest salt pans in the world. They are the remnants of the once enormous Lake Makgadikgadi which dried up thousands of years ago. Lying to the South-East of the Okavango Delta, the landscape is not one vast salt pan, but rather lots of salt pans interspersed with sandy islands covered with palm trees and grasslands. Some of the worlds largest baobab trees exist here, and there is a surprising amount of game - the worlds second largest migration of zebra and wildebeest occurs here after the rains in c. February. The open salt pans are perfect for long canters and gallops, allowing you to cover the ground and discover meerkat families, brown hyena dens and other desert adapted wildlife.
The Tuli block to the east of the country, bordering Zimbabwe and South Africa is the "land of the giants". A horseback safari in this area, as you cross backwards and forwards over the "great, grey, greasy Limpopo" allows you to discover vast herds of elephants and enormous baobab trees. This area also offers a good chance of viewing big cats.
Botswana has one of the lowest population densities in the world, and with it's exclusive tourism policies, the wilderness attractions are largely unspoilt and uncrowded, promising an unparalleled African horse riding adventure.
See our horse riding holidays in Botswana below.