Horse Riding Holidays, Bulgaria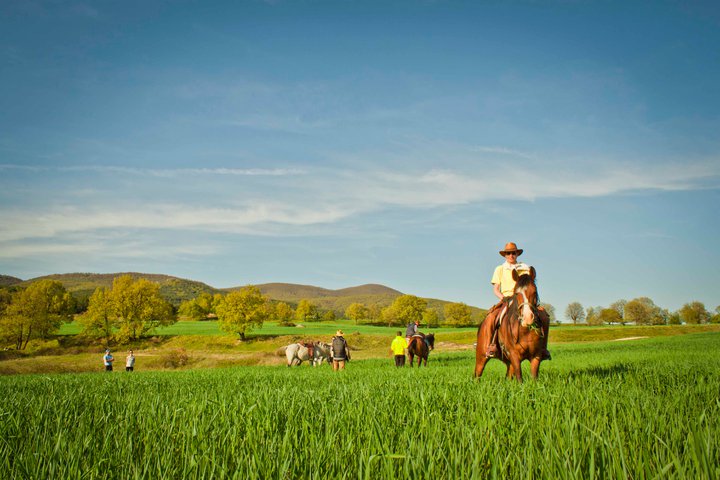 Bulgaria was recognised in 681 and is one of the first countries in Europe. It is a small country with a truly unique natural environment with much of the land protected. It is a scenic landscape with an abundance of rivers, lakes and mineral springs that are rich in plant and animal life. There are golden sandy beaches, vast plains and high mountains and along with the never ending evergreen forests, this provides a remarkable experience on horseback. Through riding here, you can learn about local culture and the history of the villages and its people. The villages have managed to maintain their traditions and you can experience the true meaning of the word 'hospitality'. Life here is simple and often hard with the main occupation on the lowlands being farming and crafts. In the mountains the people raise animals and are self sufficient, they gather mushrooms, herbs and forest fruits. These mountains reveal a colourful world of forests, pastures and rock formation. Horse riding in the mountains is one of the delights on our riding programmes.
The horse is the sacred animal for the old Bulgarians and it is still the most natural sight amidst the Balkan mountain ranges. In medieval Bulgaria, horse breeding was very important. In 1396, when Bulgaria was conquered by the Ottoman Empire, horse breeding suffered for five hundred years. Horse breeding was resumed during 1877-78 when liberation followed the Russo-Turkish War. Local mares were crossed with stallions of different breeds. It resulted in the East Bulgarian Horse. At the end of 19th century, breeding continued at the state farm and the State stud in Dobrudja. Since the first part of the 20th century only Thoroughbred blood has been added. As with many of the European warm bloods, these horses are used on the farm as well as under saddle. Selective breeding for performance of all kinds has made it extremely versatile, though its greatest aptitude is for sport.
Bulgaria is still known mainly as a country with wonderful seaside and winter resorts and whilst this is definitely true, there really is no comparison to the delight of discovering the energy and the beauty of the mountains whilst riding a horse. Bulgaria is truly unspoilt and is a destination not to be missed by those wishing to explore this wonderful country on horseback.
The Balkan mountain range is situated in the hearth of the country, dividing the country into two almost equal parts – Northern Bulgaria and Southern Bulgaria. Horse riding allows to to intimately explore these mountains which offers a bit of everything from green meadows, venerable oak forests, tender fir trees to numerous waterfalls, bears, goats, and wild horses. One of our horse riding tours takes you to the highest point of the range, Mount. Botev peak at 2376 m.
See our horse riding holidays in Bulgaria below.
Land of the Thracians, Bulgaria
A beautiful ride offered by our partner Bogdan, a qualified vet and experienced riding guide. The Thracian Valley is a beautiful region for riding with lots of smooth terrain, fabulous wines and ancient Thracian and Roman ruins. There are plenty of chances to canter in this area and to experience the real countryside and culture, whilst still enjoying comfortable accommodations and spa opportunities.
Rhodope Mountain Trails, Bulgaria
This family-run riding destination is owned by a qualified vet who speaks excellent English. He keeps a small herd of forward-going, responsive horses who are fit for mountain adventures. The riding is very scenic including plenty of trots and canters and great opportunities to explore the region's history and culture along the way.