Horse Riding Holidays, Ecuador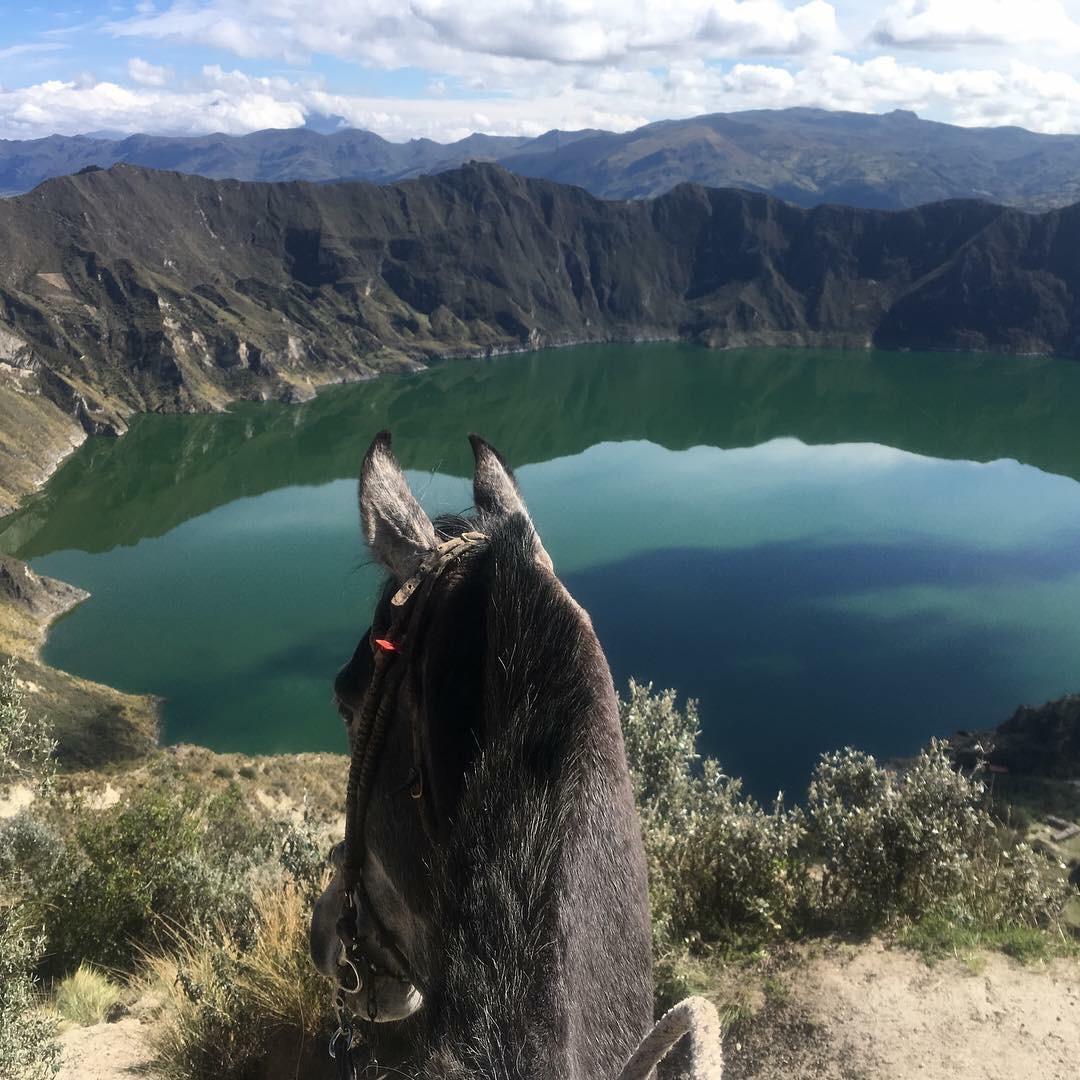 Ecuador is the second smallest country in South America but features a great biodiversity and geographical variation – in one day's drive you can journey from the Amazon Basin volcanoes, down through tropical cloud forests and into the sunset for a dinner on the balmy Pacific coast. For nature lovers Ecuador is a dream with exotic orchids and birds (15% of the world's bird species), jungle plants (25,000 species), amazing insects, windswept páramo (Andean grasslands), damp tropical forests and many animals. It is one of seventeen megadiverse countries in the world, meaning that it harbours a large majority of the world's species. The Galapagos Islands, off the western coast of Ecuador, were the inspiration for Darwin's Theory of Evolution.
Ecuador provides various horse riding experiences through a range of terrain and ecosystems. These vary from the Andes, with snow-crested volcanoes, to the lower elevations of tropical rainforests and even the Galapagos Islands. Mountaineering, trekking and horseback riding are world class in this small country. Climatic variation means that visitors can experience the tropical climates of the Pacific coastal region as well as the weather in the Andean Highlands, where the climate is temperate and relatively dry. This elevated Andean "Sierra" provides the best riding throughout Ecuador. Cotopaxi National Park is an excellent location for horseback experiences with its wild paramo plains reaching over 16,000 feet. These, along with the park's centrally positioned Cotopaxi volcano, provide a classic Ecuadorian landscape in which to journey. Large numbers of animals, including groups of wild horses, can be seen in the park and the chance to see wild stallions crossing the rough terrain at a gallop is not to be missed. Occasionally there are sightings of extremely rare species, such as pumas and Andean condors, and the grassy undulating hills of the area allow for some faster paced riding.
See our horse riding holidays in Ecuador below.
Hacienda La Alegria, Ecuador
Your host Gabriel Espinosa comes from a family steeped in equestrian tradition, and his enthusiasm for riding and horses is at the core of everything at La Alegria. All abilities are catered for from experienced riders to total beginners. The family's mission is to provide the finest horseback riding and eco-tourism adventures in the country from the warm and inviting atmosphere of the historic hacienda.
Hacienda Zuleta, Ecuador
Riding at this hacienda has been a family tradition for over one hundred years and today reflects this equestrian affinity by boasting one of the most exclusive stables in Ecuador. Dating from the late XVI century, the hacienda lies in the spectacular Andean mountain range of Ecuador at 9,600 feet (2,800 meters) above the sea level, and only two hours north of Quito, the capital of Ecuador. This is a colonial working farm of 4,000 acres (2,000 hectares) that is family owned. It was chosen as one of the world's "Top Ten Finds" by Outside magazine.