Egypt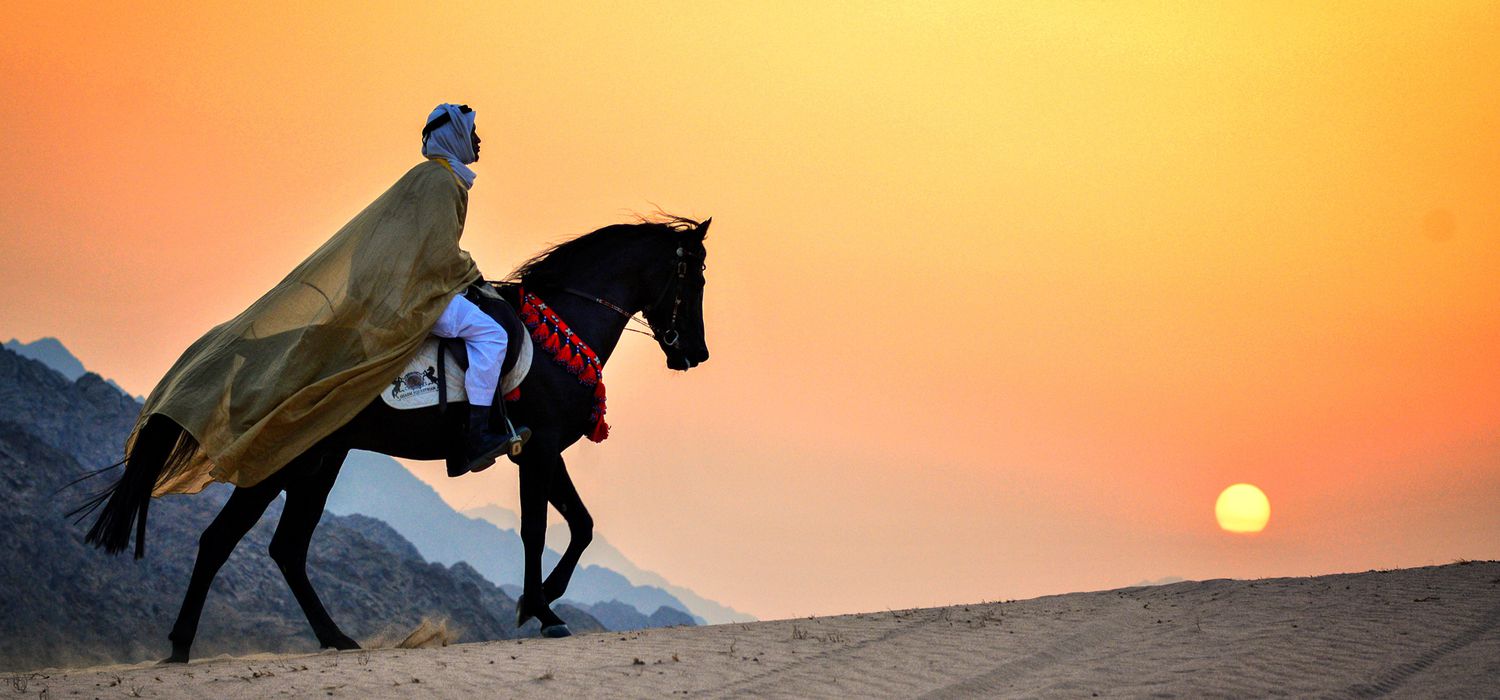 Mainly in Northern Africa with the Sinai Peninsula crossing into Western Asia, Egypt borders both the Mediterranean and the Red Sea. With an astonishing diversity of natural terrains, and rich with relics left from Ancient Egypt, Egypt is an amazing country to discover on a horse-riding holiday.Egypt is built around the majestic Nile Valley. East of the valley is the Arabian Desert which is bordered by high mountains. To the west is the Libyan Desert which stretches across the top of Northern Africa. To the east, is the Sinai Peninsula, containing Mount Sinai and Mount Catherine – the highest peaks in Egypt.
Read more…

There is a wealth of stunning natural and man made scenery to explore in Egypt. 5000 years ago the Pharaohs founded the worlds first nation state. Their vast administrative armies, and sophisticated systems resulted in the creation of Egypt's greatest monuments, the pyramids, the Valley of the Kings, the Temples of Karnack, the ruins of Thebes and the Sphinx and Garba. Life in ancient Egypt revolved around religion and the Pharaohs traced their ancestry back to the gods of the Egyptian pantheon. Different Pharaohs allied themselves to different cults, and elaborate temples cemented political status.

The Egyptian Arabian horse is one of the outstanding and most expensive horses in the world. It is also considered the most beautiful of its kind that exist worldwide. Its body form is considered magnificent in beauty and proportion; its height ranges from 150cm to 160cm; its colour is a sort of grey, brown, black or blond. They are characterised by a beautiful conformation, proportion and intelligence.

The ancient Egyptians had known much about horses ever since the Stone Age, as shown in rock drawings. Moreover,at the advent of the 19th century Mohamed Ali Pasha, Egypt's ruler at that time (1769-1848), imported horses from the Arab Peninsula. Most of the Egyptian horse breeders were from the royal family such as Khedive Abbas Helmi II, Prince Ahmed Kamal and Prince Kamal-el-din Hussein and others. In Egypt, there are now about 230 farms for breeding Arabian horses. So horses have played an important part in the history of Egypt.

So it seems natural to explore the natural scenery of this country on the back of an arab. Whether it is sandy plains, rocky mountains or lush oases- all can be discovered up close on horseback.
One quarter of the world's population of Arabs live in Egypt. Most are Muslim but there are 12 million Christians who happily coexist. You will be greeted with friendly smiles and the occasional invites into people's homes. The people of Egypt will help to make your trip a truly unforgettable experience.

Egypt has long hot summers between May to October, and mild winters between November and April. The temperature during the day can fluctuate a lot due to the prevailing winds, and they drop at night, particularly in the desert.

Temples, Tombs and Beaches

Egypt

5 matching itineraries

Luxor, often referred to as the worlds greatest outdoor museum, is an amazing setting for a horse riding holiday.

View Ride