Horse Riding Holidays, Greece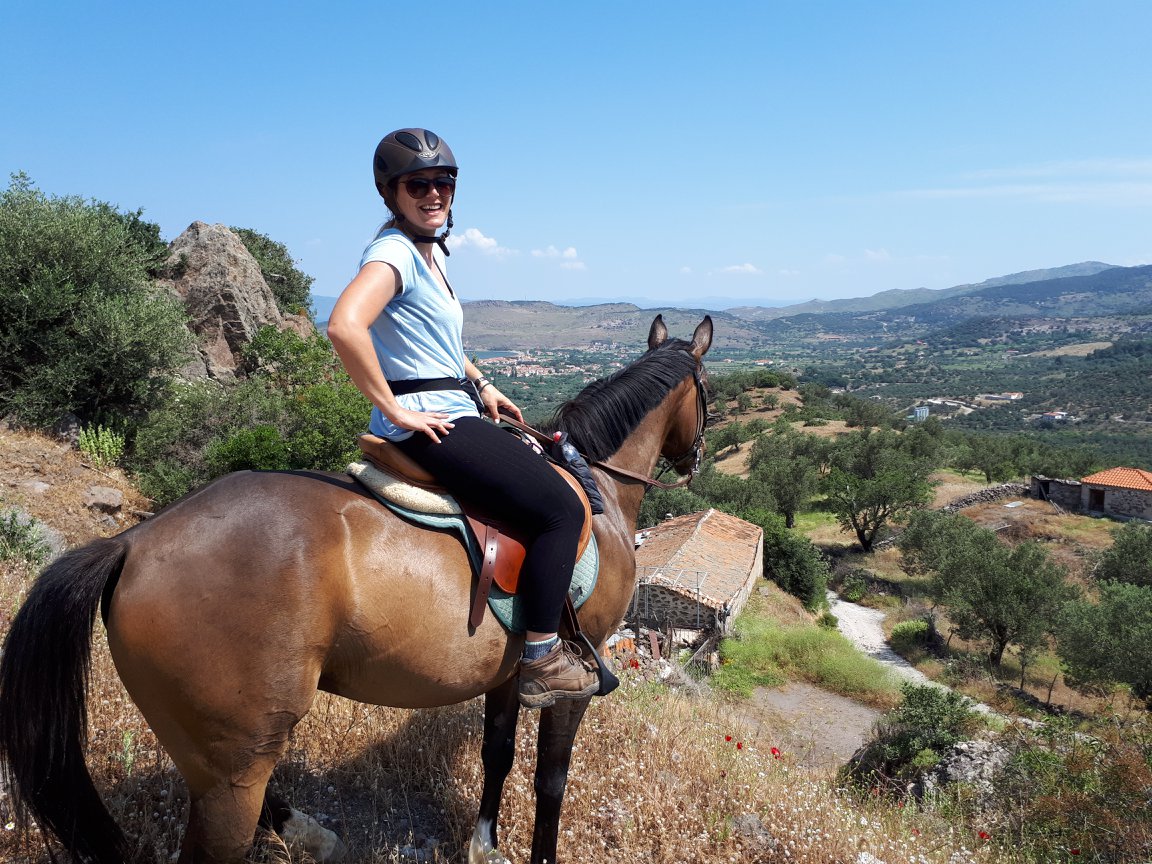 The beautiful Aegean Island of Lesvos is rich in Ancient Greek heritage and shrouded in its history. It is the third largest Greek island and boasts an impressive landscape, with landlocked coves, rugged mountains and expansive coastlines. Over the years it has been known by many names; Lassia, meaning densely forested and Imerti, meaning delicious. this is due in part to its luxuriant forest vegetation and abundant olive crops. Lesvos is a lush green paradise, which is virtually unaffected by the tyranny of tourism, which has rendered many of its compatriots nothing more than glorified amusement parks.
Sheltered to the North, East and South by Turkey, the island enjoys a temperate, Mediterranean climate long into the autumn months. The coolest times are January and February, but temperatures will still rarely drop below 10℃ (50℉) in the warm coastal regions. The capital city of Mytilini, is considered to be a veritable powerhouse in the Aegean sea, as well as being one of the most ancient cities in Greek history.
Nowadays it is home to the world famous petrified forests located in the North of the Island, as well as producing some of the world's finest Ouzo, Olive Oil and Sardines. Fans of Seafood will be particularly fond of this island, as it also possess some of the most extensive coastline, for its size; a fact which can be attributed to the unusual inland bays of Kolpos Kallonis and Kolpos Geras. For a true taste of Greece, Lesvos is an essential destination.
Although in modern times the horse has fallen from favour in Greece, these animals have always played a key role in the countries ancient past. Due to poor grazing and rough terrain, the horses of ancient Greece were small yet sturdy animals suited as well to pulling chariots as they were to racing - a sport which, arguably, finds its routes in the olympic sports of ancient Greece. These horses were generally categorised into 8 sub-breeds distinguished mainly by which island they originated from and bore a striking resemblance to the modern Haflinger horse of today. horses also played a key role in the greek mythology, most notable of which is the winged horse of the greek gods - Pegasus.
See our horse riding holidays in Greece below.
Greek Island Escape, Greece
Riding out of a small, authentic, family run riding stables in the heart of the island town of Molyvos, on the Northern coast of the Island of Lesvos. You will be offered the unique opportunity to explore the surroundings of Molyvos, on horseback. You will ride on wide sandy beaches and discover breathtaking views, from the top of steep, rocky mountains. This island has so much to offer you and it is just waiting to be discovered.