Jordan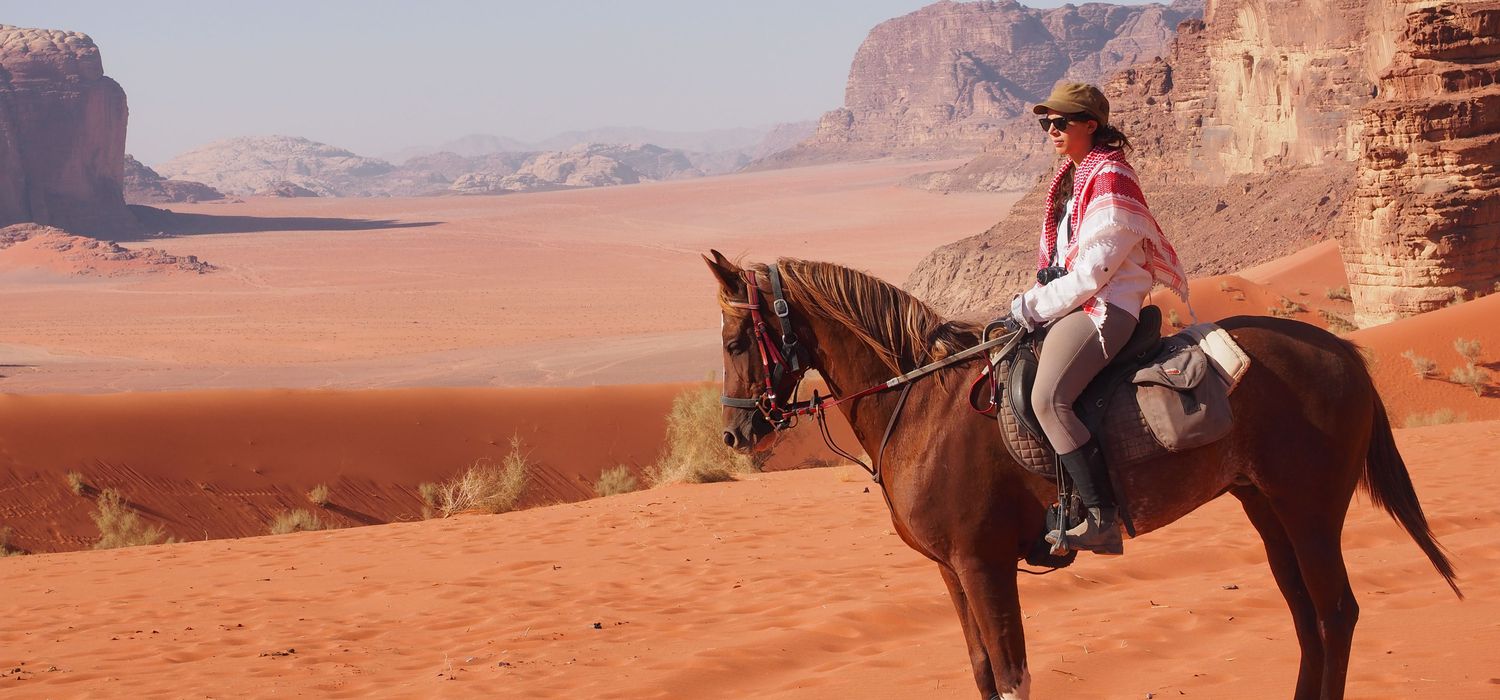 For many visitors to Jordan the ancient city of Petra is without doubt the most spectacular, unmissable sight, battling it out with Machu Picchu or Angkor Wat for the title of the world's most dramatic 'lost city. Images of the ancient city of Petra carved from the rock over two thousand years ago have long been most people's first impression of Jordan. While Petra is indeed one of the most stunning attractions in the Middle East, Jordan offers so much more for the modern traveller. Jordan is a land of mesmerising beauty and contrasts and visitors can explore splendid deserts and the haunting wildnerness of the Wadi Rum from the back of a horse. Riders can take a few days to retrace the segments of the ancient spice, silk and frankincense routes that pass through the stunning mountains of Petra and north Jordan. More daring riders will want to mount their arabian steeds for a trek through deserts and re-enact the original Arabian pony express mail service that operated here in the 7th century.
Read more…

There is so much to see in Jordan - ruined Roman cities, Crusader castles, desert citadels and powerful biblical sites. Biblical scenes are not just consigned to the past in Jordan; you'll see plenty of men wearing full-flowing robes and leading herds of livestock across the timeless desert. From the rock-climbing highs of Wadi Rum to floating in the Dead Sea (the lowest place on earth), Jordan offers some of the wildest adventures in the region. The incredibly varied backdrop ranges from the red desert sands of Wadi Rum to the brilliant blues of the coral-filled Gulf of Aqaba; from rich palm-filled wadis to the lifeless Dead Sea. And, of course, not to forget, one of the new seven wonders of the world: the ancient Red Rose city of Petra. Just imagine you are riding an Arabian horses across the landscapes from Petra to Wadi Rum - that is a unique experience.

Jordanians are a passionate and proud people and the country truly welcomes visitors with open arms. Despite being squeezed between the hotspots of Iraq, Saudi Arabia and Israel & the Palestinian Territories, Jordan is probably the safest and most stable country in the region. Regardless of your nationality, you'll be greeted with nothing but courtesy and hospitality in this gem of a country.

Petra Trails

Jordan

2 matching itineraries

Visit the ancient city of Petra, ride a fit Arabian horse across the Wadi Rum desert and soak your weary muscles in the famous waters of the Dead Sea.

View Ride