Horse Riding Holidays, Menorca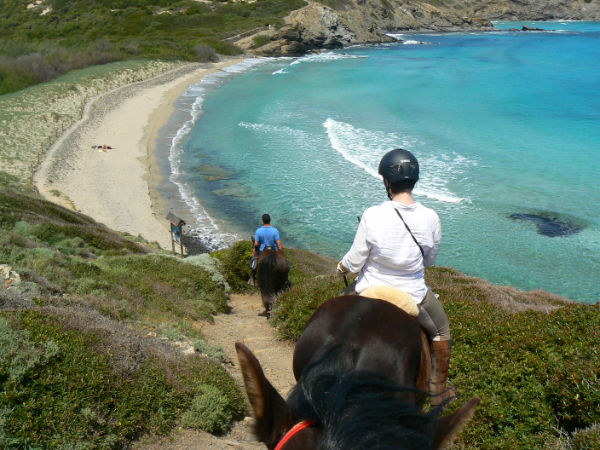 Menorca, situated just 21 miles from Mallorca, is the second largest of the Balearic islands and quieter than its neighbor. The countries main attraction is its coastline, dotted with more beaches then Mallorca and Ibiza combined. The island has much to offer for couples, families and single travellers alike whether you are a rider or a non-rider. The historic path around the islandís coast, the CamŪ de Cavalls, has been restored and is the perfect way to explore the island by horseback or on foot. Due to its impressive flora and fauna, the entire island was classified a biosphere reserve by Unesco in 1993, making this an unspoiled destination for horse riders.
Menorcaís climate is typically Mediterranean, and is well known for its mild temperatures. Temperatures are pleasant and generally vary between 8 and 12 degrees in winter and an average of 25 degrees in the summer months with over 300 days a year of sunshine. The flora has adapted to this climate and is rich and diverse. The animal kingdom is made up of, on land, small mammals, reptiles, insects and many birds. Red kites, and other birds of prey, are still a relatively frequent sight in Menorca making it ideal for the keen bird watcher. Menorcaís greatest animal though, is the Black Horse, formally used to protect the islandís coast line. These majestic horses are the leading stars of the islandís festivals and the Menorcan style of riding has its origins in these traditional fiestas. Menorcan dressage plays an important role and in the 1980ís these equestrian activities became an official sporting event. Menorcan horses are famed for their beauty, spirit and speed and are trained to rear up on command.
Menorca has a wide range of terrain suitable for all levels of rider. There are many virtually traffic free, country lanes, giving riders the opportunity to explore some of the most beautiful landscapes of the Mediterranean, ranging from small coves, wide beaches and shaded woodlands. We recommend you ride the routes offered around the Cami de Cavalls and through other country areas to get a glimpse of the island from a different perspective and to discover the horse culture that fills every corner of the island.
See our horse riding holidays in Menorca below.
†
Menorca Rural Hotel, Menorca
Menorca was designated a UNESCO biosphere reserve in 1993 with the S'Albufera d'es Grau national park, a bird-filled wetland at its heart. Menorca can offer many unspoiled green areas to be discovered by visitors on horse back. Here you can ride along rural tracks like the Cami de Cavalls and enjoy the magnificent landscape and views offered by this island. You will be accompanied by professional horseman who will show you parts of the island only possible to reach by horse.
†