Horse Riding Holidays, Namibia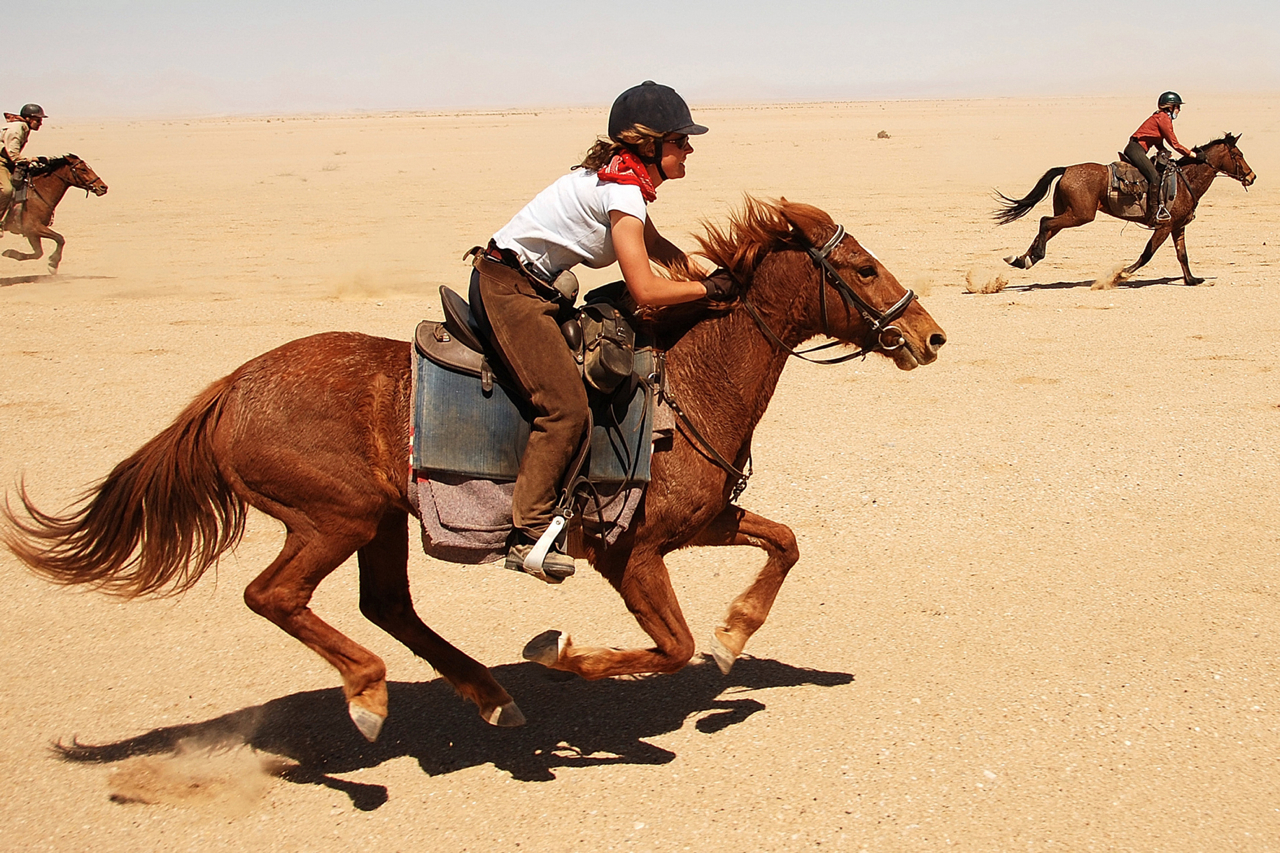 Namibia is a country in southern Africa on the Atlantic coast and is nearly four times the size of Great Britain. Despite its size, it is one of the most sparsely populated countries in Africa with most of its population living in the north central part of the country. The landscapes change from the Namib dunes to the sea in the the west to teak woodlands and waterways in the northeast. The Namib desert in the west and the Kalahari in the east account for about 22% of the countries surface. Namibia owes its name to the Namib Desert, a unique geological feature renowned for the pristine and haunting quality of its landscape. It is a country of compelling beauty, abundant sunshine and a feeling of unconfined space. With is unspoilt landscapes and large variety of game, Namibia draws an increasing number of visitors from various parts of the globe.
The diverse landscapes create the perfect conditions for horse riding, with terrains varying from mountains, bush and wooded areas to desert plains and dunes. Namibia is still wonderfully wild and remote, with few paved roads and great sections of land inaccessible to vehicle travel. This means there are endless opportunities for fast paced and challenging riding. Namibians are a resilient nation of peoples who are fiercely proud of their country. Life here can be very tough, with horses regularly carrying out domestic and farm work on rough terrain, and, as a result, they respect their animals.
Namibia boasts a variety of breeds from Arabs, Hanoverian and Trakehner to Lippizaner, Haflinger, ranch horses and all types of cross-breeds so you will really be spoilt for choice. On average they are middle-sized, swift and surefooted offering reassurance to the rider but never shying from challenging riding.
See our horse riding holidays in Namibia below.
Desert Trails, Namibia
Exploring the Namibian desert on horseback is one of the most exciting riding experiences in the world. From galloping across vast open plains to cantering up and down the sand dunes, all under a spotless blue sky, adventurous riders will love the riding opportunities available to them as they journey across the oldest desert in the world. Spending the nights next to a dwindling campfire, admiring the stars and enjoying the company of your horse, is a memory to last a lifetime.
Okapuka Horse Safaris, Namibia
Okapuka is a malaria-free private game reserve of 10,000 hectares, situated about an hour north of Windhoek, which you can explore from the back of a beautiful Arabian horse. Game sightings are good, including white rhino, and there are long, sandy tracks for fast riding coupled with scenic mountain rides. Non-riders are also well-accommodated here.