Horse Riding Holidays, Sardinia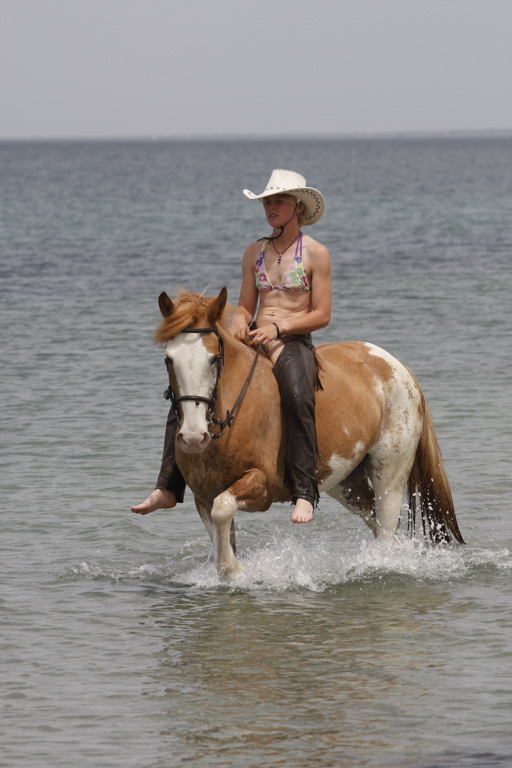 Sardinia is the second largest island in the Mediterranean lying just west of Italy and below the French island of Corsica. It has approximately 1800 kilometres of spectacular coastline. For thousands of years Sardinia was plundered by invaders from the sea so until recently there were very few villages built along the coast. However, the coastline is one of Europe's finest and the transparent waters teem with fish and shellfish. Consequently, during recent years Sardinia has become a popular destination for those who love aquatic sports and seaside holidays. However, the Sardinians are particularly proud of their horse heritage and horse riding is becoming popular once more and is available to riders wishing to holiday here.
The Sardinian landscape is unique with much diversity and is spectacular for horse riders. There are broad valleys which turn into golden oceans of wheat in the summer and rugged mountains which are home to flocks of sheep that feed on the pungent wild herbs and which produce a wonderful cheese. Amongst the mountains are hidden caves and archeological ruins as well as abundant olive groves now silent. Few foreigners brave the mysterious centre of the island but it is a great place to explore from the back of a horse.
Sardinia has always been a land of horses and riders whose deeds send us back to the splendour of the reign of Eleonora D'Arborea. The horse tournament of the Sartiglia held in Oristano during the Carnival period, the Ardia of Sedilo, is a pagan race in honour of Emperor Costantino and is one of the celebrations held today to honour the horse and to mark its importance to the island. In fact, Sardinia has a folk festival for every month of the year with plenty of singing, dancing and free food.
Getting to this wonderful island is now easy with two low cost airlines flying into two of the island's airports. Flights are now very cheap and plentiful making Sardinia accessible to all travellers. It is a beautiful and fascinating island with so much to offer.
See our horse riding holidays in Sardinia below.
Sea & Pine Forest, Sardinia
A fantastic and diverse resort with something to offer everyone. Imagine riding in an immense pinewood, on the dunes that border the beach and the sea and looking up to admire the flight of rose flamingo. Horse riding can be tailored for your needs. There are lessons for beginners and more advanced tuition if required. You can enjoy gallops along the beach and explore the pine forests on horseback.

It is possible to book a three or four day trek when you leave your horse and return to the hotel each night.