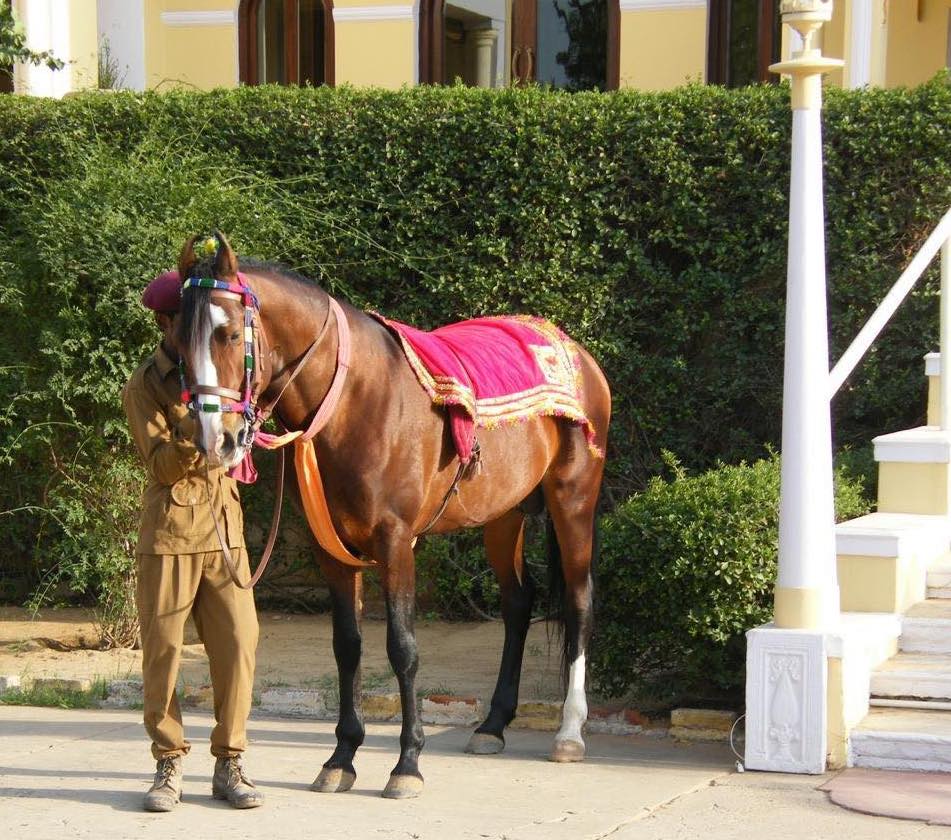 India is a vast land of great contrasts, reaching over 3000 km from top to bottom. It borders Pakistan to the west; China, Nepal, and Bhutan to the north-east; and Bangladesh and Myanmar to the east. To the south lies the tiny tear drop island of Sri Lanka. India is the seventh largest country on earth and the second most populous. We have three destinations each offering very different horse riding experiences.
Home to some of the very earliest civilisations in the Indus Valley, India quickly became a trade route linking east and west. Gradually annexed by the British East India Company from the early eighteenth century and colonised by the United Kingdom from the mid-nineteenth century, India became a modern nation-state in 1947 after a struggle for independence. Today, India is a multiplicity of some of the world's largest religions, ethnic groups and historical traditions.
Geographically, India boasts a great array of landscapes, a real feast for the senses for any horse rider. To the far north lies the Himalayan mountain range, home to Everest, the world' highest peak, and created as a result of the Indian subcontinent crashing into Asia millions of years ago. India shares the dry and eerie Thar desert with Pakistan. Southern India is almost entirely composed of the peninsular Deccan plateau, which is flanked by two hilly coastal ranges, the Western Ghats and the Eastern Ghats. India is home to several major rivers, including the Ganges, the Brahmaputra, the Yamuna, the Godavari, the Kaveri, the Narmada, and the Krishna, many of which hold great religious and cultural significance.
Rajasthan, where two of our rides take place, is an Indian state larger than the UK, home to a large proportion of the Thar desert, the Avaralli mountain range (one of the world's oldest) and the Ghaggar river. Summer temperatures can reach over 45 degrees Celsius yet in winter it can drop below freezing. Rajasthan is really a collection of kingdoms, some stretching as far back as the 6th century. These formerly independent kingdoms have created a rich architectural and cultural heritage, seen today in their numerous forts and palaces (Mahals and Havelis) which are enriched by features of Muslim and Jain architecture.
Riding opportunities in this spectacular region are seemingly endless. Some rides can be tailor made to suit individual needs but most are safari based giving you maximum time to enjoy the flora and fauna of the area. You can gallop on the deserts and plains and canter through the hills in the knowledge that luxurious tented accommodation, hot showers and hearty meals await you at your next stop.
For a very different experience why not travel far north for a challenging and exciting trail for the tough and adventurous rider taking you through the south-eastern Tibetan plateau of Changtang, one of the harshest living environments on earth.
See our horse riding holidays in India below.