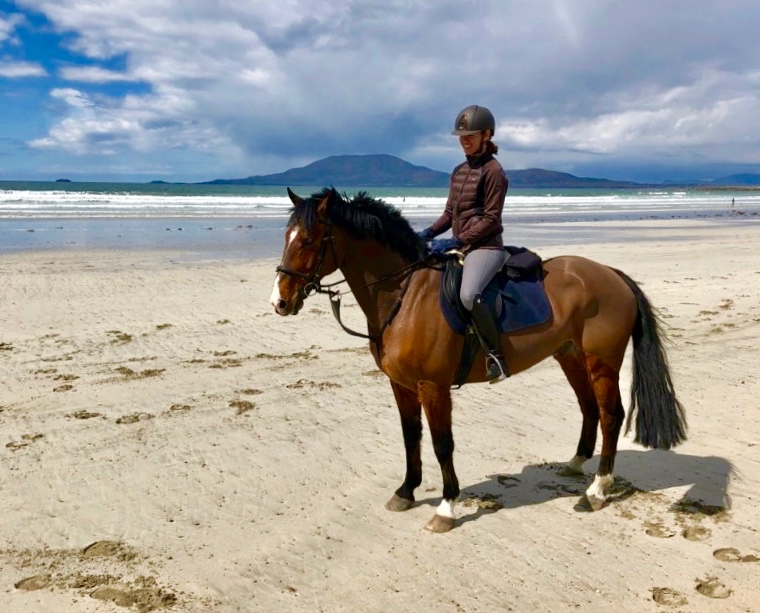 Ireland is an island in Northwestern Europe and is otherwise known as the 'Emerald Isle' due to its lush green countryside. This is a result of a mild oceanic climate and frequent rainfall - it's often said that you can experience 'four seasons in one day' here. The rich green landscapes and temperate climate mean that horse riding here is always a joy and although you may face rain, the horses here are used to it and are not bothered. More inland areas feature more extreme temperatures (though still mild compared to much of the world) and the west tends to be wetter but still well-suited to riding.
The main geographical features of Ireland are its coastal mountains with low plains towards the island's centre. The mountain ranges are not particularly high but are enjoyable for countryside walks and the low plains offer great cross country fields. The island is divided into two by the River Shannon, the longest river in Ireland, and there are many lakes throughout the country which are lovely to view.
Although a small island, there is a variety of habitats here and the environment is popular for Red Foxes, Badgers and Hedgehogs with Red Deer, Irish Hare and Pine Martens sometimes being seen. The number of foxes here and the excellent horse riding terrain means that fox hunting is a popular part of Ireland's culture. Some great birds, such as the Golden Eagle, have recently been reintroduced and the many great species of Aquatic-life can be seen off the coast. During medieval times, Ireland was covered with great forests but much of the land is now open plains and pastures. This has led to a variety of beautiful wild flowers thriving in the mild climate, some of which are unique to this island and provide great sights for riders and hikers alike.
Ireland has an interesting history and a great culture, having made an excellent contribution to literature, art and science over time (famous Irishmen being Oscar Wilde, George Bernard Shaw, John Butler Yeats and Robert Boyle to name a few). Irish folk music and dance is known world wide, as is their creation of Guinness, and the people here are friendly and welcoming. There are three World Heritage Sites in Ireland and a number of wonderful castles and sights to be seen such as Bunratty Castle, Holy Cross Abbey and the Rock of Cashel.
Besides Guinness, one of Ireland's most popular exports are their outstanding horses. Irish Sport Horses, originally a mix between Irish Drafts and Thoroughbreds, have been used for a variety of purposes but are fast becoming desirable event horses. They have a natural athletic ability and speed, courtesy of their Thoroughbred blood, but also feature the wonderful nature and good sense of the Irish Draft, an exceptional horse in its own right and originally bred for farm work. The Irish Sport Horse has become known as a great fox hunting mount and due to their suitability for show jumping, hunter trials and dressage work, as well as simply being an enjoyable mount, many of them are exported to the US and the UK.
Horses have always played an important role in the literature and folklore of this Celtic island. From the legend of the great warrior Oisín who disappears beneath the waves astride a beautiful white steed to be with his true love Niamh in Tír na nÓg, the Land of Eternal Youth, to the story of the great Cúchulainn and his mighty chariot horses Grey Macha and Black Seanglan there is a kind of magical legacy. Many old tales portray the horse as a spiritual protector from the forces of evil, and the powerful relationship between man and horse is a recurring theme.
Ireland's temperate climate, lush plains and exceptional horses combined with the welcoming and friendly locals means that this is a top notch horse riding holiday destination. There is nothing better than a hearty meal and a good pint after a day's riding in this emerald landscape.
See our horse riding holidays in Ireland below.