Horse Riding Holidays, Mongolia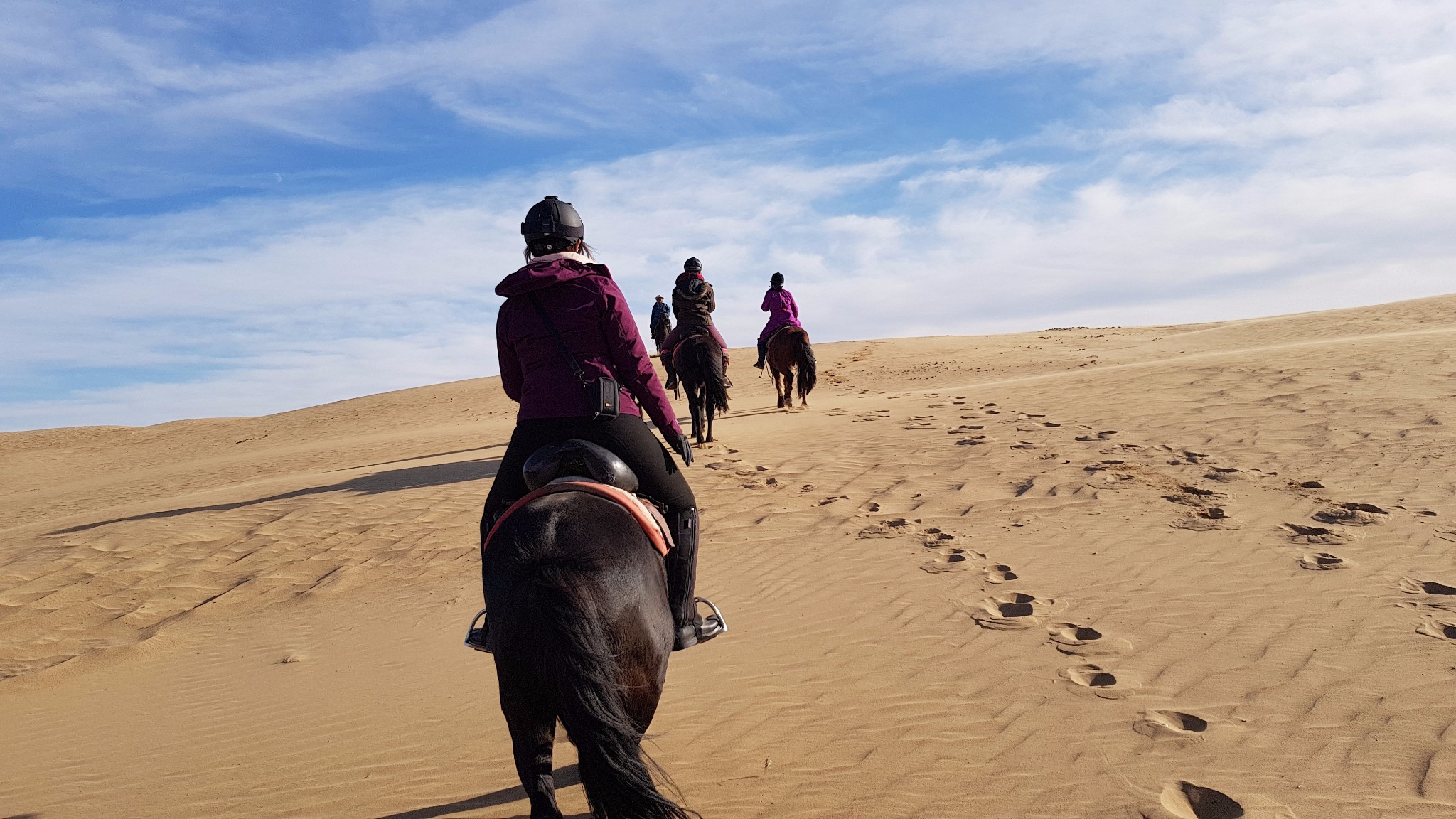 Mongolia is located in central Asia and shares its borders with Russia to the north and China to the south. You will find four well-defined seasons, and on average, the sun shines for well over 200 days a year. The climate is harsh continental with low precipitation. The coldest month sees extreme lows in January and the hottest month peaks in July. Mongolia is the land of blue sky, boundless space and the cradle of true nomadic people. A country that exudes calmness, Mongolia is one of few places where nature still remains in its original condition, creating a magical place to experience on horseback. Here, horse riders will find fresh air, pure water springs, sand dunes of Gobi desert and high mountains, endless steppe and deep forests. One can discover many historical delights, such as, etched stone monuments, deer stones, rock drawings and forgotten tombs.
This is a country rich in Florna and Fauna with a total of 138 mammal species, 449 bird species, 75 fish species as well as amphibian and reptile species. A total of 30 mammal species and sub-species have been included in the rare and very rare classifications of the Mongolian Red Book, revised in 1997 which also includes the takhi (Przewalskii horse) as well as many other mammals that are now totally protected. The Mongolian horse is one of the most important breeds found among the indigenous horse breeds of China. It is a dual-purpose horse, used primarily for riding and carting, but is also used for milk production. The average wither height of males is 128 cm, females 127 cm, but body size varies with environmental conditions. The takhi horses are the last remaining wild horses in the world and probably the most recognised symbol of preservation and protection of Mongolia's diverse and unique wildlife.
See our horse riding holidays in Mongolia below.
Gobi and Grasslands Ride, Mongolia
Experience the stark desert landscape of the Bayan Gobi and the lush grassland steppes of the Orkhon Valley on this trail which combines riding in both these dramatic locations. If you cannot choose between riding in the desert or the valley then this trail is the perfect combination of both! Discover the hospitality of nomadic hersdmen and camp in wilderness locations far from the tourist crowd.
Orkhon Valley Trails, Mongolia
The Orkhon Valley is an extensive area of pasture land which stretches c. 80km in length and 15km in width between the banks of the Orkhon river. With your nomadic Mongolian guides you can discover this beautiful region on horseback. This is the Mongolia of your dreams with the steppes stretching out in front of you and the yurts and herds dotted all around. Riding in Mongolia is always an adventure and a cultural experience, but it is your choice as to how rustic you wish to be.
TransMongolia Trail, Mongolia
Discover the wild and remote Mongolia on this incredible trail ride which traverses the Khogno Khan and Arkhangai. This three week trail is an adventurous expedition across central Mongolia where you can discover the joy of Mongolian horses along with the tradition and hospitality of nomadic herdsmen and their families.
Winter in Mongolia, Mongolia
Winter rides in Mongolia are not for the faint-hearted! The weather in Mongolia from November to March is very cold, but also very dry, so you will experience the wonder of the steppes glittering under a forever blue sky. Discover on horseback the magic landscapes of the Orkhon Valley, the dunes of Bayan Gobi desert and the wild Przewalski horses in Hustai national park, all in a wintry white wonderland that few tourists will witness.