Horse Riding Holidays, Morocco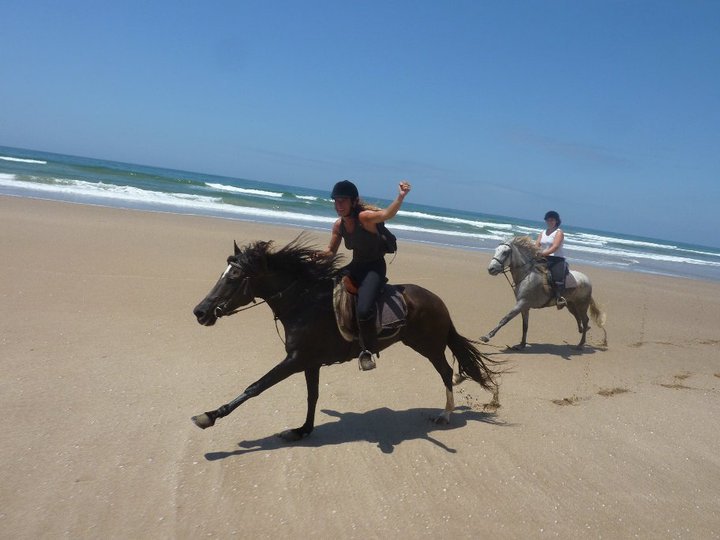 Morocco , whilst only a few hours away from the UK, has a rich culture so different to our own which seems to us very exotic. Arab, Berber, African and European influences have made this country very fascinating to visit. The Islamic deeply traditional culture is so unfamiliar to us. With both Atlantic and Mediterranean coastlines and with a rugged mountainous interior, the country remained independent for centuries. Its history, climate and geography appear more closely related to the Mediterranean than to the rest of Africa so it is often difficult to believe exactly where you are.
Morocco boasts both snowcapped mountains and sandy deserts, fertile plains and long white beaches. It has so much to offer visitors with its ancient ruins and modern resorts and horse riding is one way to explore this fascinating country. There is a great choice of landscape in which to ride - the mountains, the lush highland valleys, the palm groves and the sandy expanse of the desert with its oases interspersed with evocative old cities.
Quarzazate is the capital of the South and is dominated by the Atlas Mountains to the North. It is a popular tourist destination - its dry hot climate and well connnected position make in an ideal base for exploring the south. Many films are shot here including Lawrence of Arabia because of the amazing landscape and diverse countryside and the magnificent horses. Horse riding in Morocco has a long history and the country produces some fine horses.
See our horse riding holidays in Morocco below.
Atlas Mountains, Morocco
The Atlas mountains are some of the largest mountain ranges in Africa and the only one in North Africa. These trails traverse several routes and allow you to discover the beauty and character of this country. These rides operate through the spring/summer months when the cooler mountain altitudes make riding pleasant
Desert to Coast Crossing (The Long Ride), Morocco
Morocco is characterised by three specific landscapes; the Sahara desert, the Atlas Mountains and finally, its extensive coastline (both Atlantic and Mediterranean). During this fantastic 29 day trail ride, you will cross from the Saharan border close to Ouazazarte to the sparkling cost of the Atlantic Ocean.
Essaouira, Morocco
Discover the hills, valleys and coastal villages around the fishing port of Essaouira on horseback. This camping trail allows you to ride through argan forests, sand dunes and along the glorious beaches on kind but tough Berber stallions.
Great South Ranch, Morocco
This Moroccan ranch is owned by two French ladies, and is situated between the ocean and mountains. This destination offers trail riding and basic tuition on their beautiful Arab-Barbs and guests can enjoy riding on the beach and along mountain trails. The accommodation is bright and comfortable and stays here are accompanied by traditional Moroccan meals and music. Riding here is very good value.
Sahara Desert Trails, Morocco
Discover the Sahara desert on a forward going Barb or Arabian stallion, opting to either camp or overnight in comfortable hostels. There are many canters and gallops on offer so these rides are for competent riders only.