Horse Riding Holidays, USA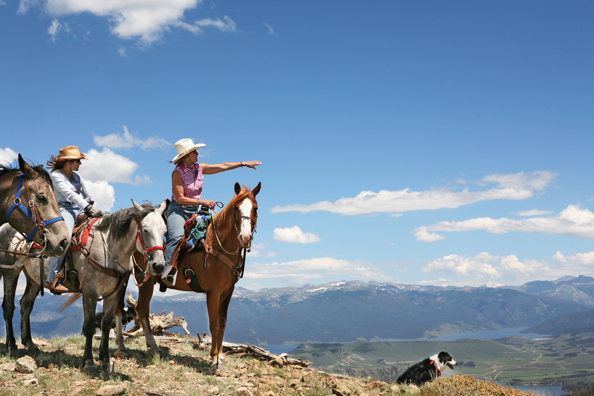 The United States of America is a very large country and has an unevenly distributed population over a big area, so there are still many wild parts. Even in the north eastern states where the population density is high, you can drive for hours through vast forests and thinly populated farmlands passing only small villages and isolated homes. Some western states like Wyoming cover an area the size of France or Germany and have a population of less than 500,000 people who for the most part live in a few cities and small towns.
The era of the cowboy in American legend lasted but a brief period of time during the nineteenth century. Earlier, Spanish colonist had discovered that much of the land in what is now south western USA was not suitable for agriculture due to inadequate rainfall, but they learned that the vast grasslands were ideal for cattle herding. These Spanish pioneers introduced the long-horned cattle, founded the first ranchos and hired mounted vaqueros to tend their herds. Cattle roamed the open range. By the mid-nineteenth century, the United States of America had acquired most of the western territories through treaties and acquisitions. Colonists from the eastern or southern parts of the US and immigrants from Europe flooded into the western frontier in search of inexpensive land. Some of them captured the wild Texas long-horned cattle and founded ranches. Vast areas of grassland in the Texas, Oklahoma and Wyoming territories were declared open range where cattle were permitted to freely graze.
Over the past four centuries much has shaped the incomparable land of America but it still remains the true home of the cowboy. On a holiday here you will find yourself immersed in life on the ranch. You will soon learn skills from seasoned wranglers and become part of a team. You do not have to be an expert rider to enjoy riding on the range and whether travelling solo or with your family, you can be guaranteed a trip of a lifetime. You will go home with a greater understanding of the ranchers' commitment to conservation of the rural life and the Western heritage. There is so much to do and see in this great country that you may need to visit more than once!
See our horse riding holidays in USA below.